ClariVie44® Process Water Circuit Conditioner
Vietti Slurrytec have developed a Process Water Circuit Conditioner (ClariVie44®) for controlling the dispersive properties of ultra-fines within a metallurgical process water circuit.
Ultra-fine particles are not captured efficiently by flocculant polymers and often requires coagulation prior to flocculation. Vietti Slurrytec offers an alternative, cost effective strategy to conventional polymer coagulation, which allows for so called "controlled" dispersion of the ultra-fines in the ore.
Since the process water conditioner is not polymer based, it is re-cycled in the process water circuit without the need for continuous dosing. ClariVie44® is dosed into the process water circuit at the required starting dose for the size of the circuit and followed up by regular top-up doses to treat the raw water top-up volume.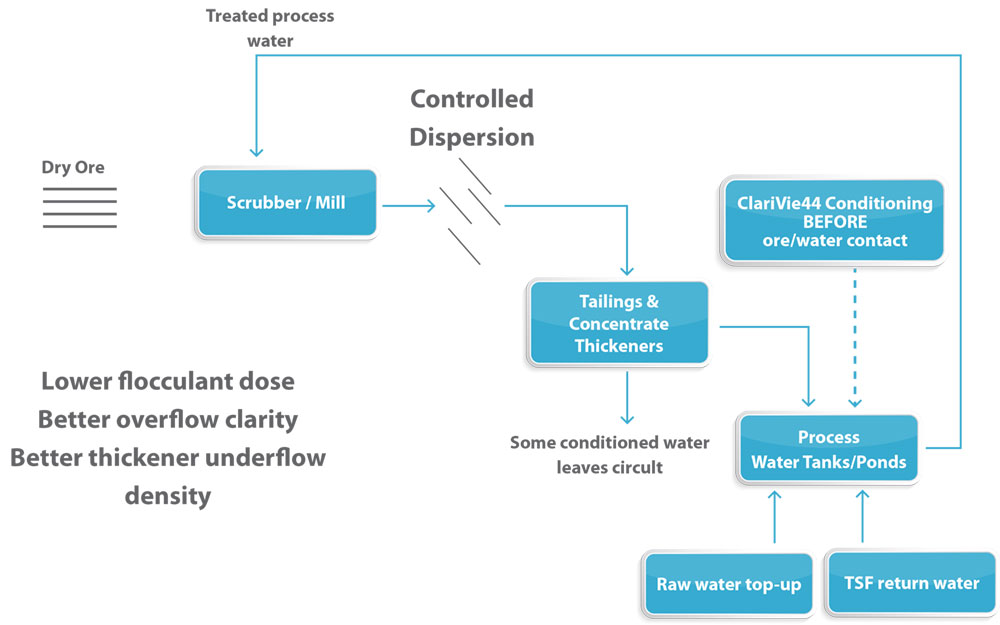 ClariVie44® does not contain sodium or chloride ions and is therefore safe for the environment and for plant infrastructure. In addition to providing better water clarity for metallurgical processing, a key benefit is lower operating costs.
Certain cost and environmental benefits are realised using this strategy such as:
Lower flocculant dose rate
Eliminate the use of polymer coagulant
Improved permeability and filterability of tailings and concentrates
Improved clarity of process water and TSF return water
Higher thickener underflow density
Reduction in the sanding of return water process ponds
An example of the ClariVie44® effect on the clarity of flocculated copper tailings slurries are shown below.
Copper Tailings Slurry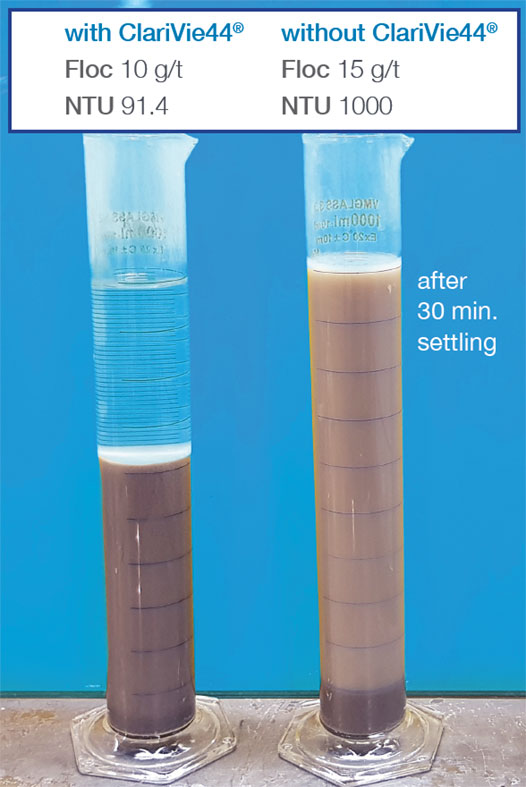 Reference Operations:
2 diamond mines, Lesotho
1 diamond mine, Botswana
1 platinum mine, South Africa
1 chrome recovery plant, South Africa